Update: Missionhill Cattery is now located in charming West Kelowna, BC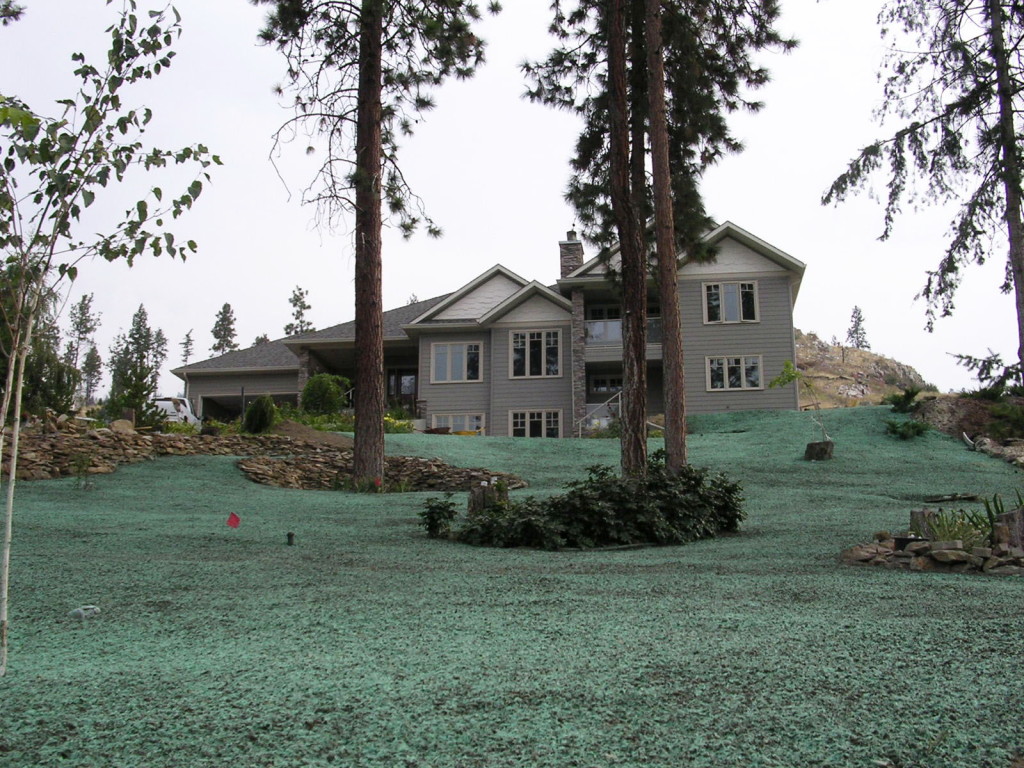 The cattery and grooming room are on the right of the house on the lower level.
There is a front entrance to the cattery on the right.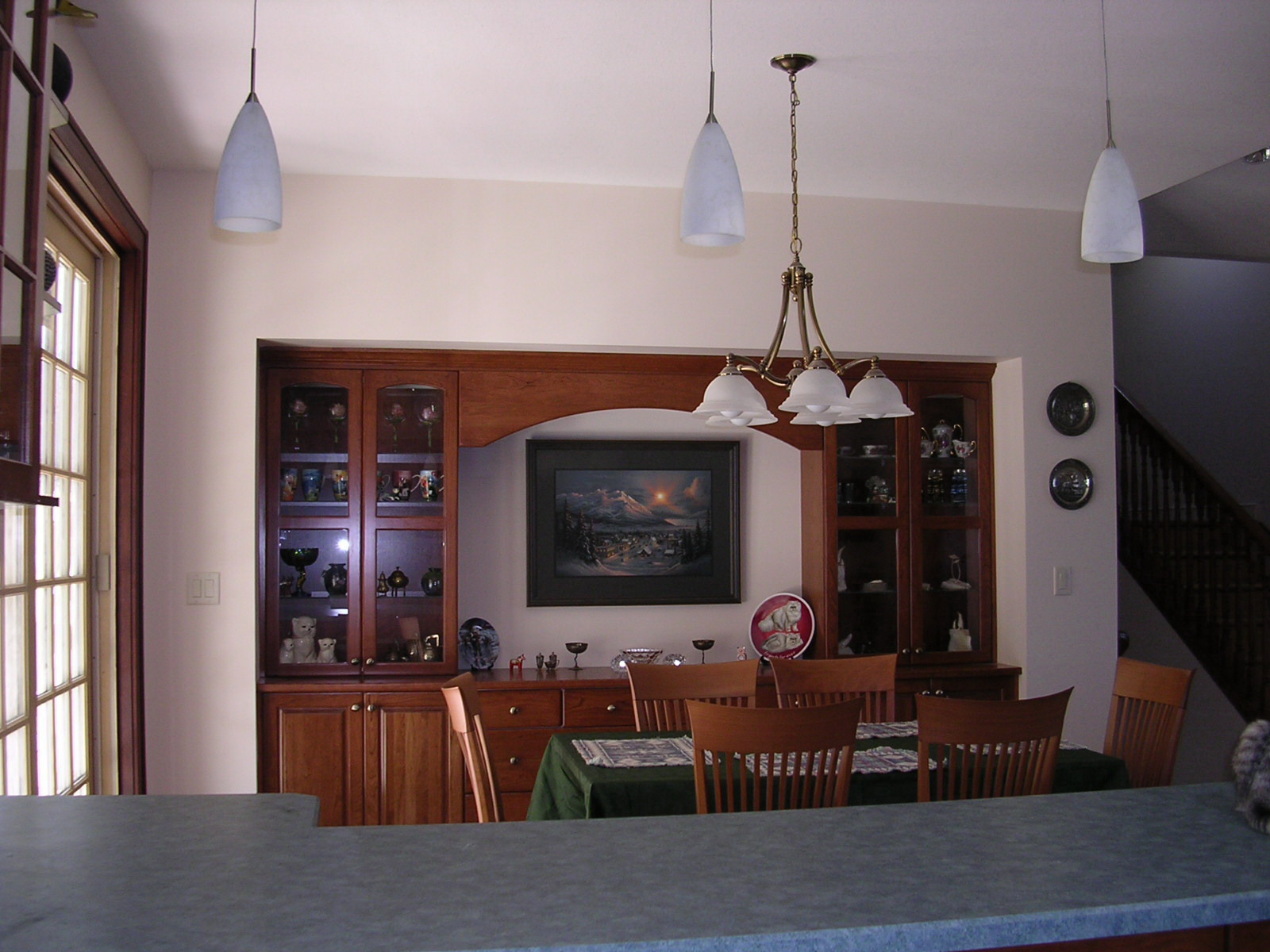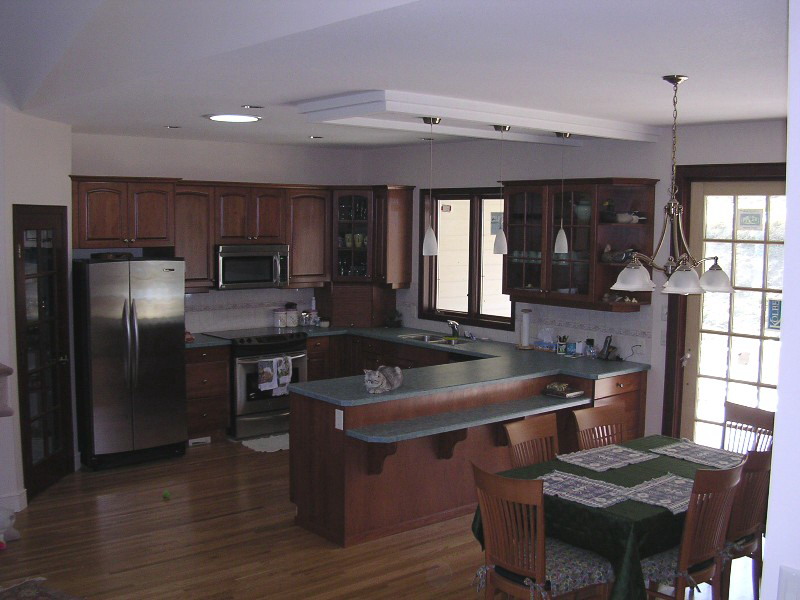 Above are photos of the dining and kitchen area (complete with counter cat)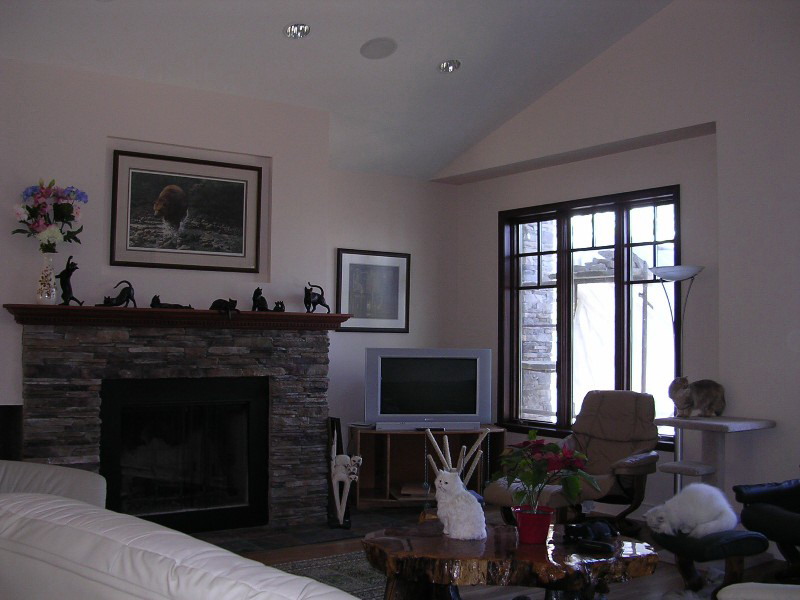 There are assorted cats in the living room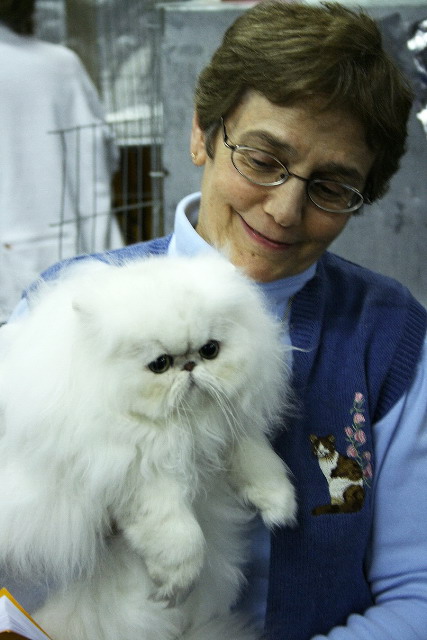 We have loved, exhibited and bred Persians for nearly 35 years and have
produced many Grand Champions in Silvers, Smokes and Solids.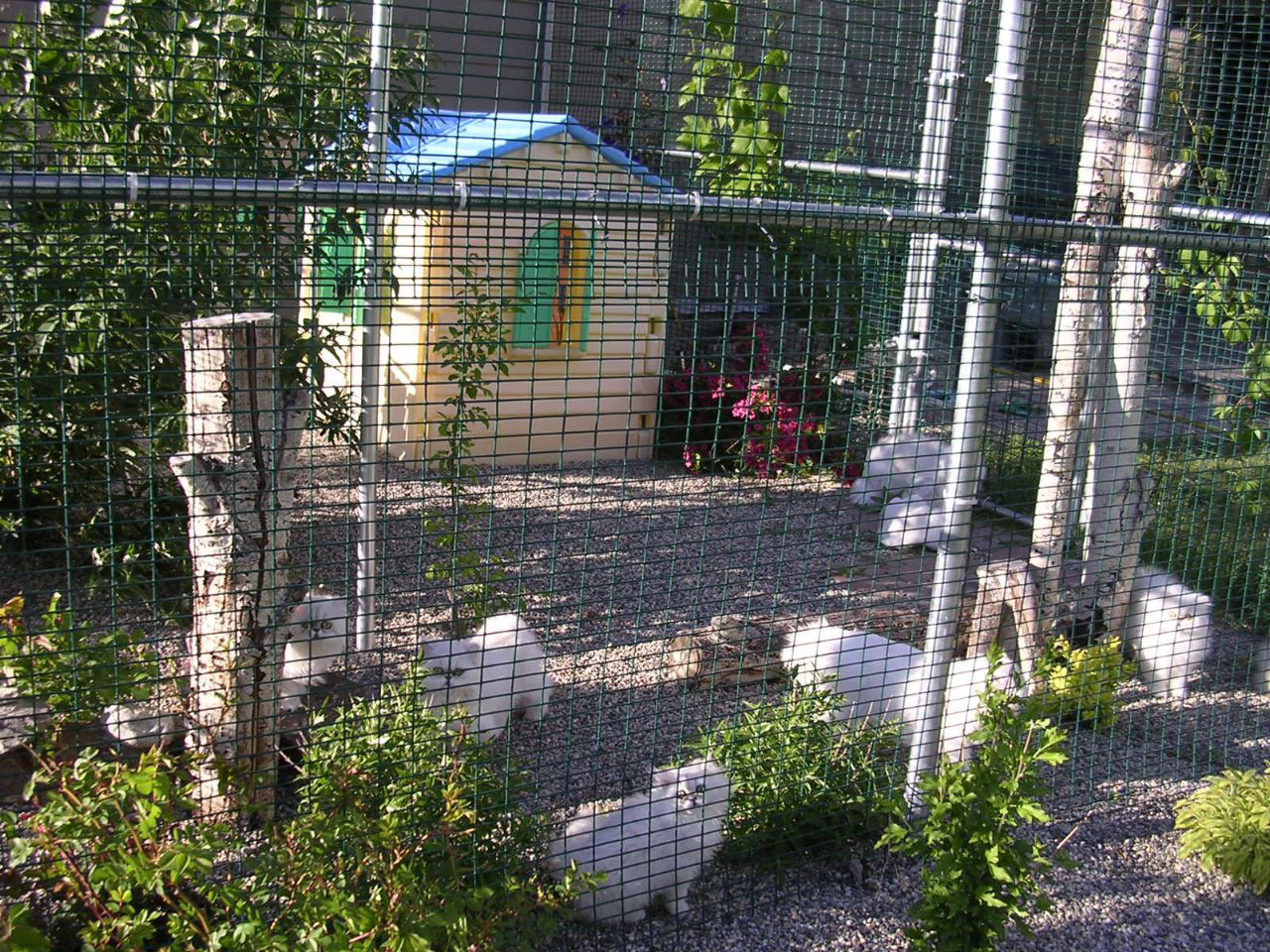 Our cats have access to an enclosed garden where, weather permitting, they spend
most of the day hunting butterflies and bugs, romping on the grass, bird watching,
and chasing shadows…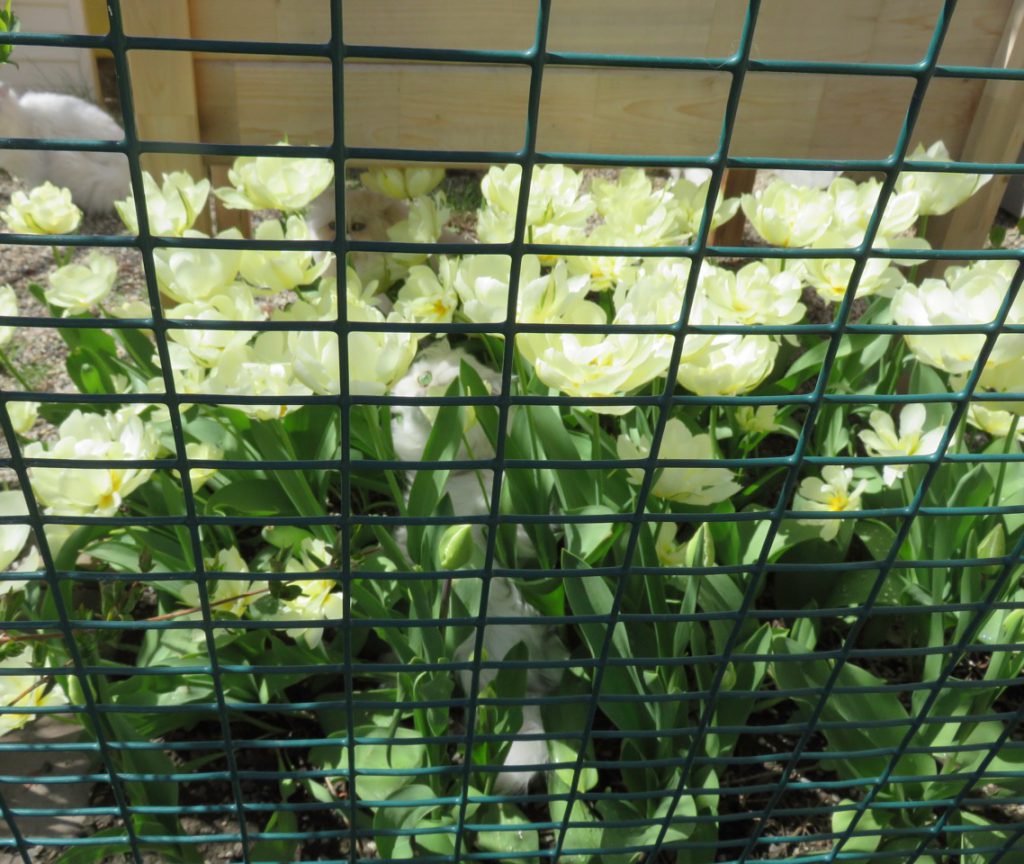 They like hiding in the tulips and peeking out from between the flowers.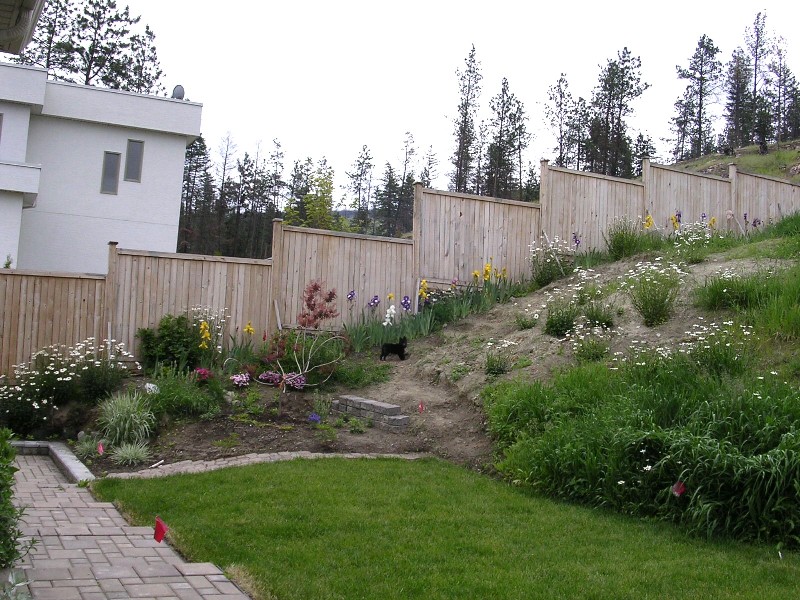 They are allowed outdoors only when we are home to keep a watchful eye on them,
since we have some very interesting forms of wildlife of all sizes who visit us on a
regular basis.
We do not cage our cats. Our females run free but those females who are territorial run free
in the main cattery area.
Our males are confined to their own dormitory style rooms. These are like small bedrooms with vinyl screens dividing the rooms rather than solid walls. This allows the males to be part of the daily cattery activity and to watch their wives and kittens play in front of their rooms.
By not allowing the males to mingle with the females we do not risk any unwanted pregnancies and we can also be certain about the parentage of our kittens.
You will notice that in the Kitten room there are strips of arborite affixed about 1 1/2 ft to 2 ft above floor level. This is to prevent the kittens from climbing up the meshing, which might result in them falling and injuring themselves.
At the far end of the cattery a door leads into the grooming room. This is where we bath and blow dry the cats. We have an air exchanger which ensures fresh air in the cattery and helps to keep the house free of odors.
Our kittens are happy, healthy and well socialized. The babies are usually delivered in our bedroom beside our bed. They remain in our bedroom until they are about 4 to 5 weeks old, when they usually want to climb out of their box. At this point they are re-located to the
cattery and confined to a kitten room until they learn to use the litter box. Then they graduate to running loose in the cattery and then moving back into the main house.
We breed Persians and Exotics in most shaded colours, specializing in Silvers. Our goal is to produce Silver Persians and Exotics of extreme type, combining this type with the overall sweet expression and expressive eyes of the Silver Persian.
All kittens are sold with a contract and are guaranteed healthy at the time of sale. All our breeding cats have been DNA tested negative for Polycystic Kidney Disease and certificates may be viewed on our website alongside the photos of the cats.
We feed only the highest quality natural food containing no rendered meat or bi-products. We also feed fresh chicken meal made from the original Feline Future recipe.
We are selective about who we allow to purchase our kittens and are always willing to help and advise new breeders.
| | |
| --- | --- |
| We have an open cattery and visitors are welcome to drop by and play with our cats. Each one of our cats knows their name and responds when spoken to. Our cats are not simply "breeding animals" but are part of our family. They join us at meals, watch television, and sleep with us – at least as many as can fit on the bed. | |
| Our grand children, Rachelle and Mariah, take after us in their love of cats. Our cats and kittens thoroughly enjoy their visits, especially the males who spend most of their time in the cattery with little to entertain them except kittens racing around and the occasional mouse who happens to wander in. | |
We hope you enjoy your visit to our website!